William (Bill) G. Cook, III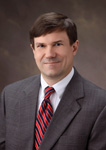 Bill Cook, III joined Cook Commercial Properties after a successful career in corporate finance for the telecommunications industry.  He also has experience in construction, real estate development and property management.  Bill is actively engaged in commercial real estate sales, leasing, investment and property management.  Bill received his B.S. Degree in Finance from the University of Southern Mississippi in 1984 and his MBA from Millsaps College in 1996.
Please e-mail me at: bcook3realestate@hotmail.com.